"Legalize! Privacy Policy and Terms of Service Generator Wordpress Plugin" Help by CodeRevolution
---
"
Legalize! Privacy Policy and Terms of Service Generator Wordpress Plugin

"

Thank you for purchasing our plugin. If you have any questions that are beyond the scope of this help file, please feel free to email via our email. Thanks so much!
---
Table of Contents
---
About the plugin - top
The plugin has some handy features, including:
Automatic Privacy Policy page generation
Automatic Terms of Service page generation
Publish your changes at will
Shortcodes support - simply add links to generated pages by adding only a shortcode to your website
Compliant with all current laws - including US and UK cookie laws (EU cookie directive)
Useful for a wide range of websites
California Online Privacy Protection Act (CalOPPA) support
Children's Online Privacy Protection Act (COPPA) support
Google Adwords and Adsense Privacy Policy Requirements compliant
Support for sites with adult content (18+)
Privacy Policy and Terms of Service pages are generated by simple questions and answers, editable and updateable in real-time
Full browser support - Chrome, Firefox, IE, Opera, Safari
Optimized for speed - no speed impact
Lifetime updates and support.
Check also part 2 of this tutorial,
here
.
Wordpress installation - top
Here is the link to the YOUTUBE VIDEO TUTORIAL.
Legalize! Privacy Policy and Terms of Service Generator plugin live demo HERE.
I also provided a Quick Install Guide to feature an easy plugin installation for everyone.
First, you'll need to install the plugin. The easiest method is to take the .zip file you've downloaded and upload it via Plugins > Add New > Upload Plugin in the WordPress Dashboard. Once the plugin is installed, be sure to Activate it.
Now that you've installed and activated the plugin, you'll see a new menu item created inside WordPress calledLegalize! Privacy Policy and Terms of Service Generator. First thing first, let's head over to Settings > Legalize! Privacy Policy and Terms of Service Generator and take a look at what options are available.
Plugin Settings - top
Refreshingly, Legalize! Privacy Policy and Terms of Service Generator Plugin has a super-simple settings screen. Let's look at first at the Privacy Policy Settings panel: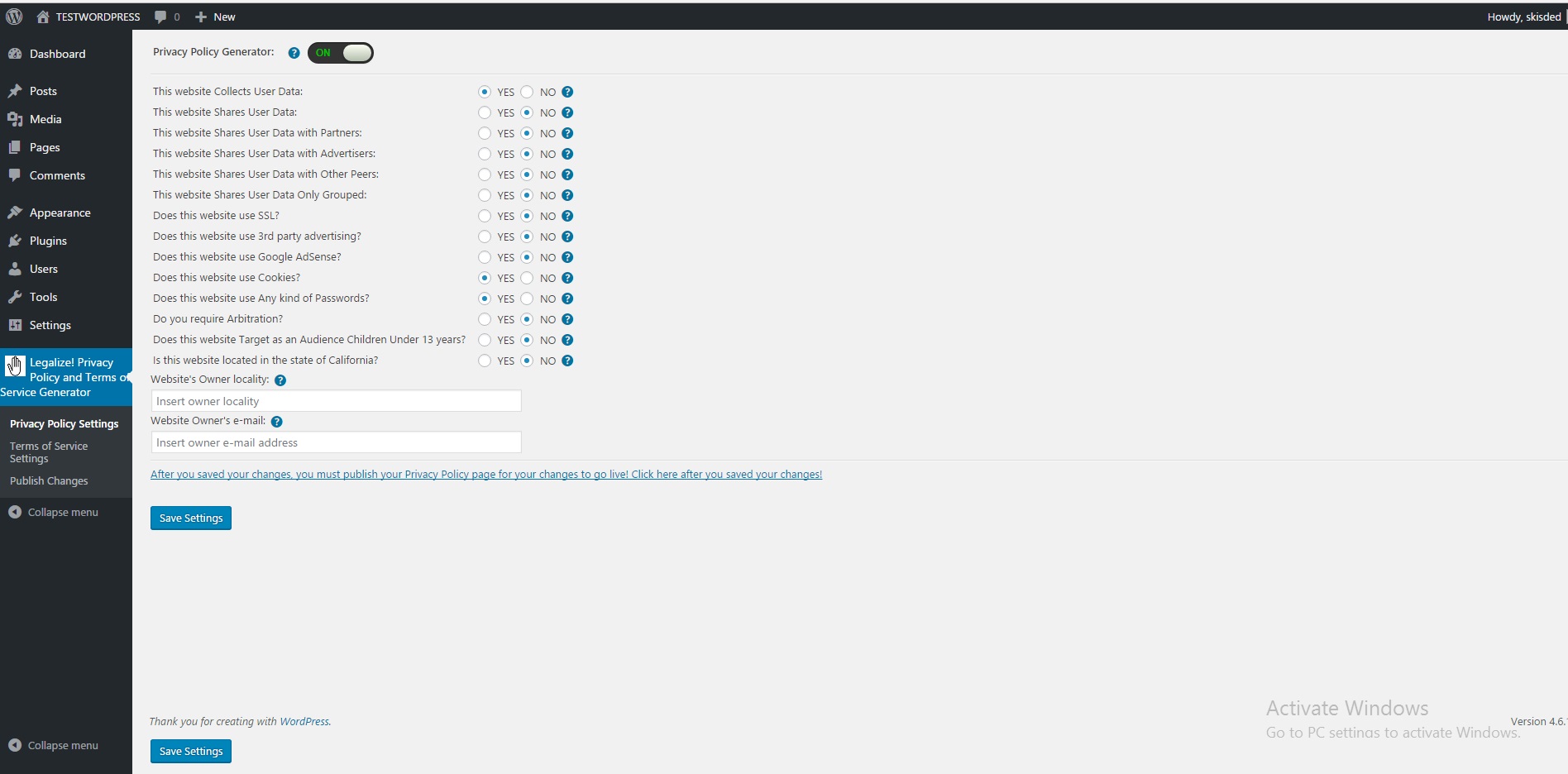 Here you can find the steps needed in configuring your plugin even if you have no HTML knowledge at all. You can find options for:
HINT! Clicking the Save button will save your settings, but will not update the Privacy Policy or Terms of Services pages on your website. To do so, you must go to the "Publish Changes" Settings panel. Also, Do not forget to hit save every time you do modifications to the plugin settings! Otherwise the settings will be lost!
Privacy Policy Generator: Choose if you want to enable or disable the generation of the Privacy Policy page. This acts like the "main switch" of the Privacy Policy part of this plugin.
This website Collects User Data: Set this to yes, if your website collects any kind of information from it's users (manually given by users) - e-mail adresses, name, telephone numbers, credit card numbers, etc.
This website Shares User Data: Set this to yes if your website shares the information collected with any kind of external parts.
This website Shares User Data with Partners: Set this to yes if your website shares the information collected with it's partners.
This website Shares User Data with Advertisers: : Set this to yes if your website shares the information collected with advertisers.
This website Shares User Data with Other Peers: Set this to yes if your website shares the information collected with other peers.
This website Shares User Data Only Grouped: Will all user data be shared only in grouped form, so that individual users are not identified and individual user data is not shared?
Does this website use SSL? Does this site use SSL? Does this website use HTTPS? (https://)
Does this website use 3rd party advertising? Will this site use a 3rd party network to provide advertising?
Does this website use Google AdSense? Will this site use Google AdSense to provide advertising? Check this to be compliant with AdSense and AdWords regulations.
Does this website use Cookies? Will this site use cookies (apart from cookies that the site has as part of advertising tools like Google Analytics)?.
Does this website use Any kind of Passwords? Will any part of this site require a password for access? Will the user be prompted for an user account on this website? If login links are visible on your website, you must leave this on "YES"
Do you require Arbitration? Do you want to require all of the site's users to arbitrate (rather than litigate) any claims against the site?
Does this website Target as an Audience Children Under 13 years? Will this site target as it's users, children under the age of 13?
Is this website located in the state of California? Is site's locality within the state of California? If it is, it must comply to the California Online Privacy Protection Act (CalOPPA)
CalOPPA Privacy Contact e-mail: (This field is visible only if the "Is this website located in the state of California?" settings filed is set to YES) What is the physical mailing address for privacy matters (California)?
CalOPPA Privacy Contact Adress: (This field is visible only if the "Is this website located in the state of California?" settings filed is set to YES) Set this to yes if your website shares the information collected with advertisers.
Website's Owner locality: Set the legal physical locality for the site. (i.e. City, State/Provence)
Website Owner's e-mail: What is the contact email of the site owner or responsible legal party?
After you saved your changes, you must publish your Privacy Policy page for your changes to go live! Click here after you saved your changes! After you saved your changes you must head to the "Publish Changes" and publish your modifications to the plugin settings.
Next, let's go to the Terms of Service Settings panel:
Here you can find the settings necesarry to configure your automatically generated Terms of Service page. You can find options for:
Terms of Service Generator: This is the main switch which controls if the Terms of Service page is generated.
Does This Website have Arbitration? Do you want to require all of the site's users to arbitrate (rather than litigate) any claims against the site?
Does this Website contain advertising? Does this website use any sort of advertising?
Does this Website allow Visitor under 18 years? Does this website allow visitors under 18 years of age?
Website has an DMCA Agent? In the U.S., safe harbor protection from copyright liability for site content added by your users can be had by designating and registering with the Copyright Office a Digital Millenium Copyright Act agent for notice and takedown procedures. Will this site have a designated DMCA agent?
DMCA Agent's Address: (This field is visible only if the "Website has an DMCA Agent?" settings filed is set to YES) Here you should enter the postal mailing address of your DMCA agent
DMCA Agent's Phone: (This field is visible only if the "Website has an DMCA Agent?" settings filed is set to YES) Here you should enter the telephone number of your DMCA agent
DMCA Agent's E-mail: (This field is visible only if the "Website has an DMCA Agent?" settings filed is set to YES) Here you should enter the e-mail address of your DMCA agent
Physical Locality of the Website: Set the legal physical locality for the site. (i.e. City, State/Provence)
Website Owner E-mail Adress: What is the contact e-mail of the site owner or responsible legal party?
Website Owner's name: What is the name of the website's owner or the website's responsible legal party?
Website Owner's Entity Type: Is the owner an Individual Person, a Corporation, a Limited Liability Company, a Partnership or a Sole Proprietor?
After you saved your changes, you must publish your Privacy Policy page for your changes to go live! Click here after you saved your changes! After you saved your changes you must head to the "Publish Changes" and publish your modifications to the plugin settings.
The next entry in our settings list is Publish Changes panel: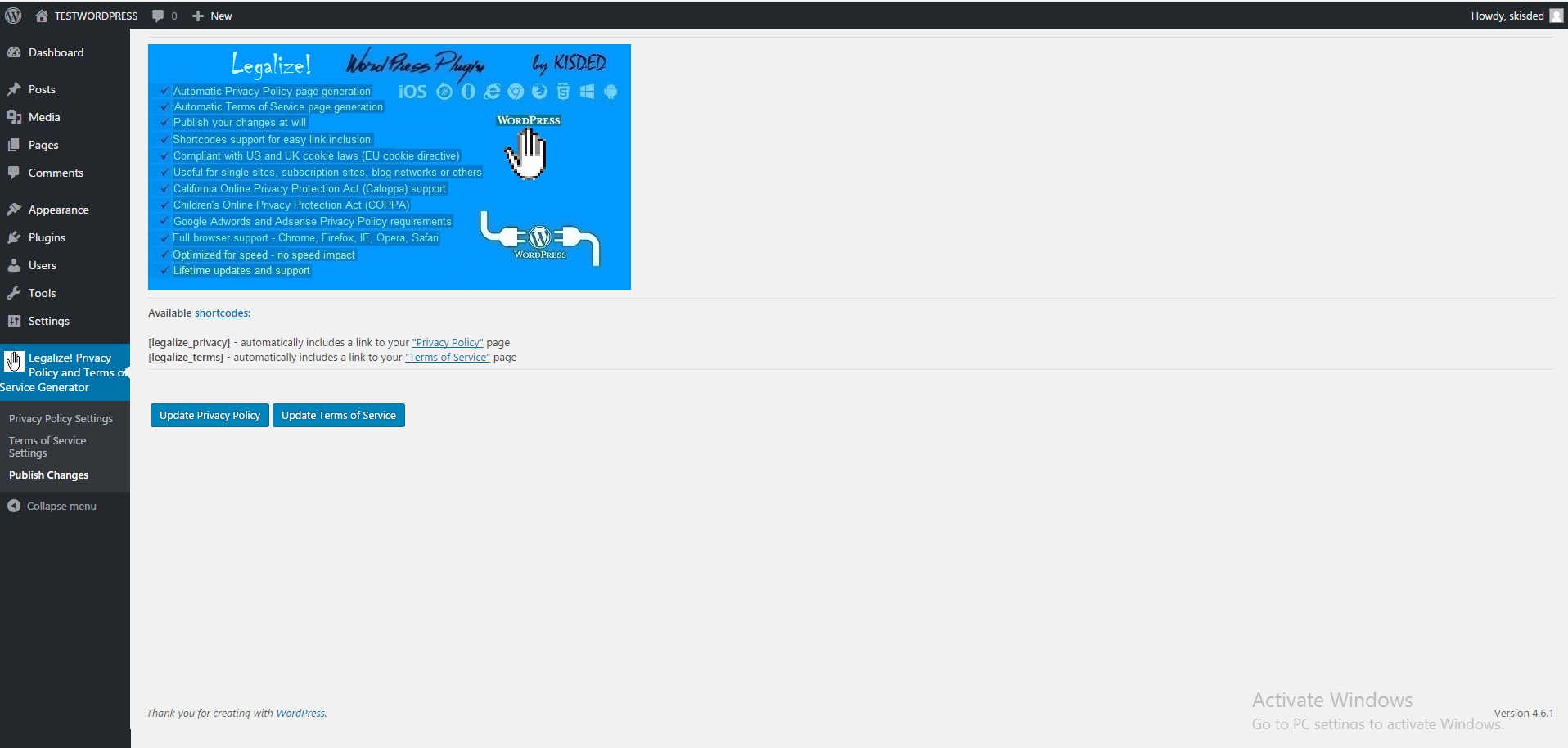 Here you can publish the changes you just made to your Privacy Policy or Terms of Service page or you can view the resulting pages, by clicking their repsective links. You can find options for:
[legalize_privacy] - automatically includes a link to your "Privacy Policy" page Add this shortcode to your WordPress page to get a link to the newly generated Privacy Policy page.
[legalize_terms] - automatically includes a link to your "Terms of Service" page Add this shortcode to your WordPress page to get a link to the newly generated Terms of Service page.
Update Privacy Policy This button will update the Privacy Policy page with your modified settings. You will be prompted "Are you sure you want to publish/update your Privacy Policy page?". Just hit OK, and you are done.
Update Terms of Service This button will update the Terms of Service page with your modified settings. You will be prompted "Are you sure you want to publish/update your Terms of Service page?". Just hit OK, and you are done.
What are WordPress shortcodes?
Shortcodes in WordPress are little bits of code that allow you to do various things with little effort. They were introduced in WordPress 2.5, and the reason to introduce them was to allow people to execute code inside WordPress posts, pages, and widgets without writing any code directly. This allows you to embed files or create objects that would normally require a lot of code in just one single line. For example, a shortcode for embedding a link to your Privacy Policy page looks like this:

[legalize_privacy]

Sometimes you may want to use the text of a shortcode in a post. To do this you have to escape it using double brackets. For example, if you want the text of the legalize_privacy shortcode to display rather than an actual link to you Privacy Policy page, you can do the following:

[[legalize_privacy]]

Shortcodes simplify the addition of features to a WordPress site. By using shortcodes the HTML and other markup is added dynamically directly into the post or page where the user wants them to appear.
Results: If everything is configures well, the result of the plugin should be seen in you "Pages" panel in WordPress configuration. There you should see two new pages named: "Privacy Policy" and "Terms of Service". The following content should be included in those pages (but, dependent on your configuration settings):
Screenshot of the resulting Terms of Service page: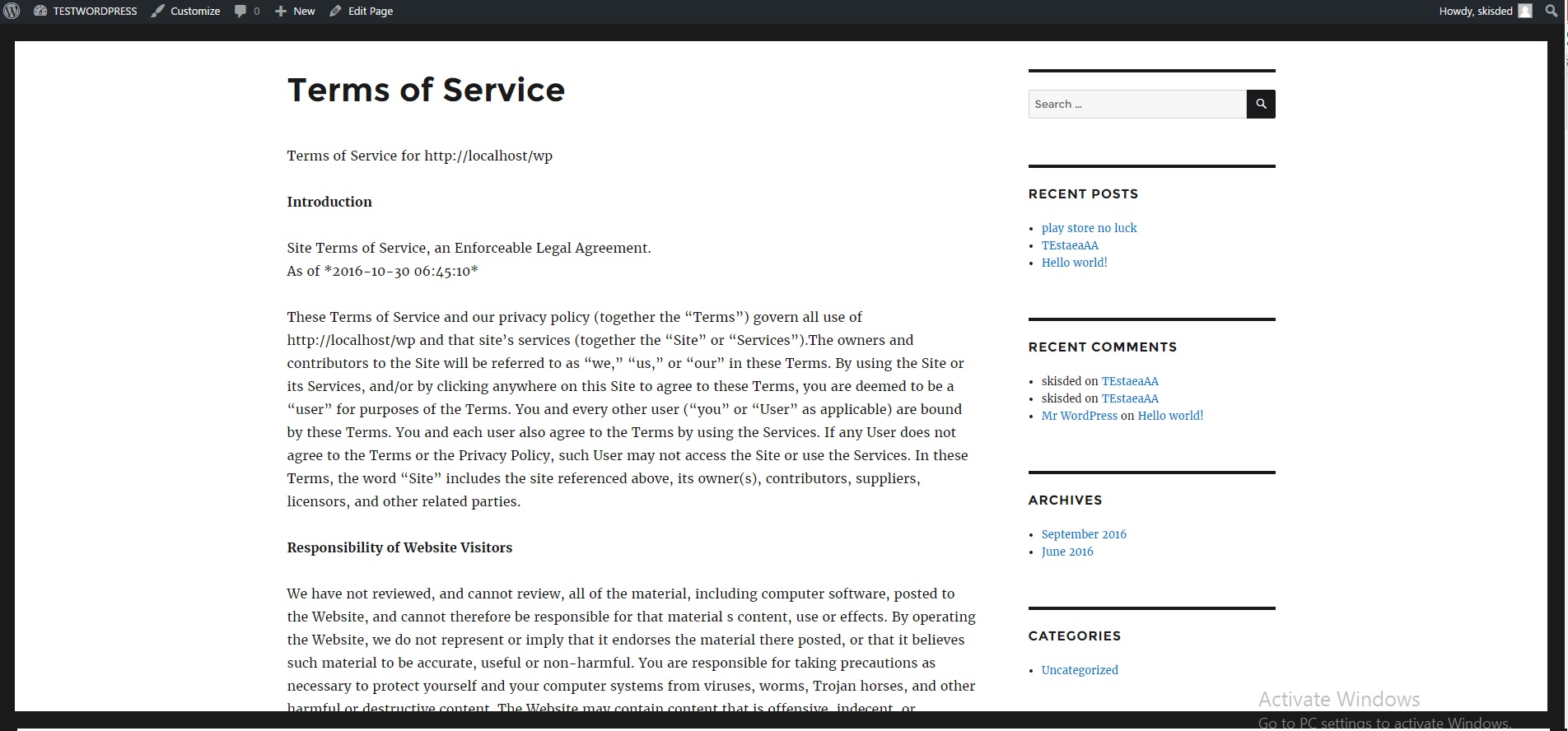 Screenshot of the resulting Privacy Policy page: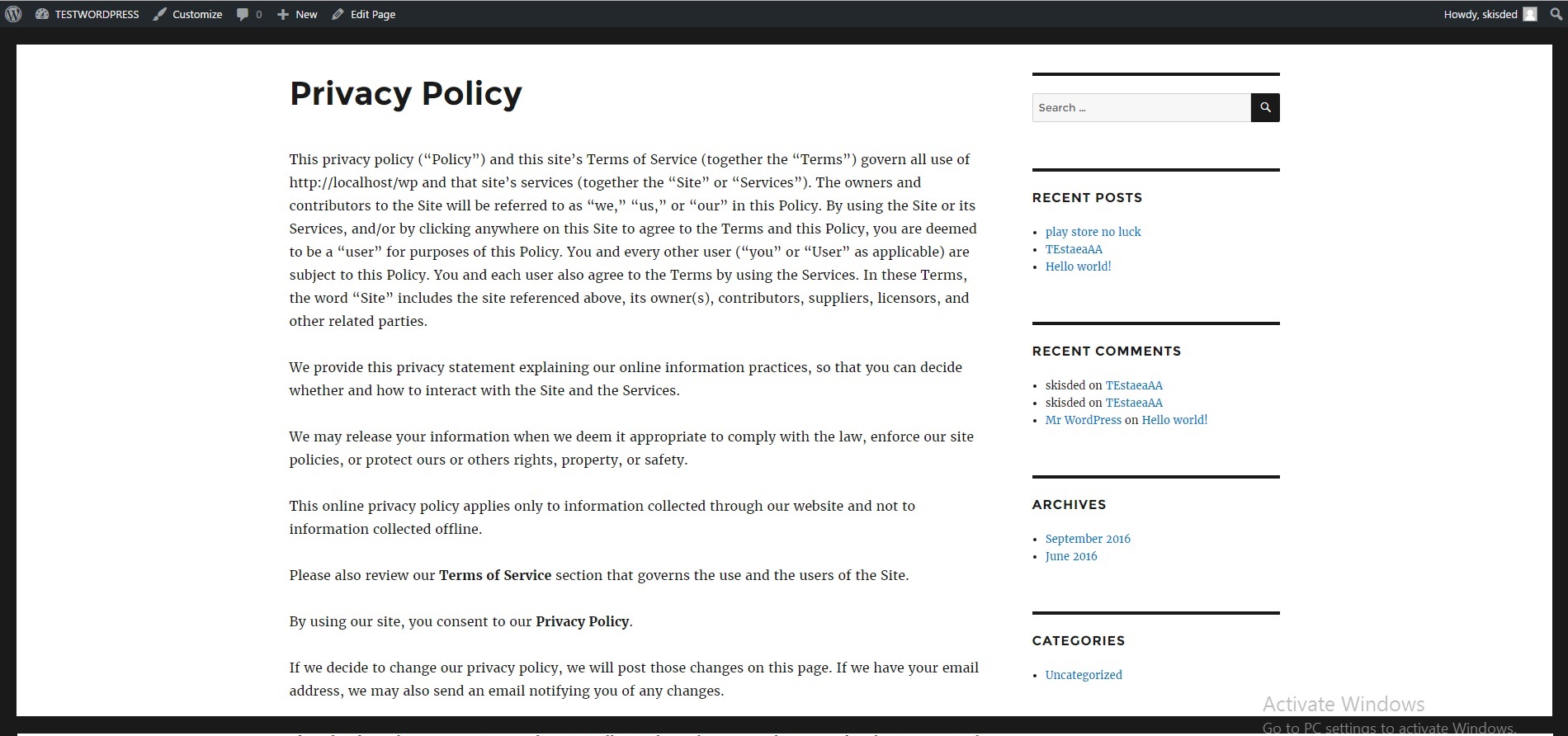 Summary - top
Legalize! Privacy Policy and Terms of Service Generator plugin is a simple, yet powerful tool you can use to make your website "law proof" for every law that target internet published material in the entire world. The setup and settings of the plugin couldn't have been easier. Now, let's go and enjoy the results of this great plugin! Have fun using it!
Sources and Credits - top
This component was made by Szabi CodeRevolution, for more information and support contact us at [email protected]
Once again, thank you so much for purchasing this item. As I said at the beginning, I'd be glad to help you if you have any questions regarding this plugin and I'll do my best to assist.
CodeRevolution
---