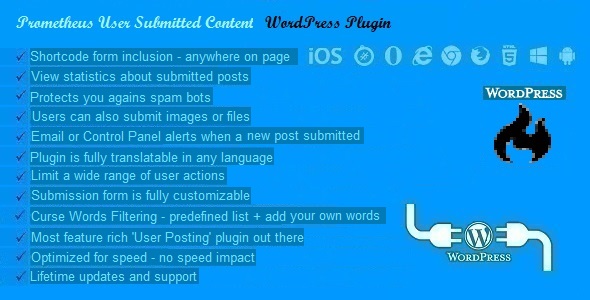 Prometheus is a Titan in Greek mythology, best known as the deity who was the creator of mankind and its greatest benefactor, who stole fire from Mount Olympus and gave it to us.
Same as the Titan Prometheus, this plugin will give your website's visitors the gift of submitting their own posts and content.
What Can You Do With This Plugin?
Prometheus User Submitted Content adds a front end form using a simple shortcode that enables your visitors to submit posts and upload files or images.
Prometheus User Submitted Content WordPress Plugin is a powerful tool to make user post submission extremely simple.
Do you want to allow users to submit posts to your website?
Do you want to define strict rules for these submissions?
Do you want to ban users that do not comply with your specifications?
Do you want to allow users to submit images?
Do you want to put your users in full control of their submitted post?
Do you want to get email messages every time a new post got submitted?
Do you want to view statistics about submitted posts?
No problem!
The Form can include the following:
User Name
Email Address
User URL
Post Title
Post Tags
Post Category
Post Content
Simple Captcha or Secret Question
Post Excerpt
Enable Comments Selection
Enable Pings Selection
Post Password
Post Format Selection
Post/Page Selection
Image/File Uploader
Google ReCaptcha
Plugin features
Include a shortcode that will add the submission form anywhere on your website: posts, pages, widgets, template
Define a wide range of rules regarding how the user submission form is configured
Define a wide range of constrains regarding user submissions
View Statistics about user submitted posts
Translate plugin in any language you want, or simply modify any outputed string as you like
Moderate submitted posts or publish them immediately
Track your submitters by IP Address, User Agent and Referrer
Ban users that break your rules
Allow only a predefined list of users to submit posts
Receive Email alerts every time a new post gets submitted
Get protected against spam bots
Curse Words Filtering – censor unwanted content
And many, many other features…
Not enough features for you? This plugin is also fully mobile compatible, is translations ready, is optimized for speed – has no speed impact and benefits of lifetime updates and support.
Testing this plugin
You can test this plugin at this preconfigured Test Blog. Feel free to submit your posts!
Need support?
Just email me at kisded@yahoo.com and I will respond as soon as I can.
Changelog:
Version 1.0 Release Date 2017-01-03
First version released!
Version 1.1 Release Date 2017-01-13
Fixed a bug with some settings in the control panel not saving properly in some rare cases
Version 1.2 Release Date 2017-02-03
Added multisite support
Version 1.3 Release Date 2017-02-06
Improved internationalization
Version 1.4 Release Date 2017-02-14
Added an option to hide submission form if user does not have privileges to submit post
Added form inclusion shortcode parameters to fully translate form output strings for every instance of the form (multilingual capability)
Version 1.5 Release Date 2017-02-22
Fixed plugin auto-updating process
Some minor fixes and enhancements
Version 1.6 Release Date 2017-03-01
Fixed some issues with video post attachments
Added the ability to add a 'I agree to the Terms and Conditions' checkbox to the form
Added the ability to add a custom field with custom HTML content to the form
Are you already a customer?
If you already bought this and you have tried it out, please contact me in the item's comment section and give me feedback, so I can make it a better WordPress plugin!
WordPress 4.7 Tested!